Process and instrumentation diagram Drawing Software also referred to as Quick P&ID is a software application that is made for creating Process and instrumentation diagrams (P&ID) as well as Process flow diagrams (PFD). The software allows users to quickly draft engineering diagrams through the specifically designed symbol palettes for different equipment, processes and instruments. The software is beneficial and practical for day to day use for professional process design engineers in any industry as well as engineering students for any project. Unlike other software tools out this software is very practical because it's main focus on drawing engineering diagrams.


Quick P&ID Features
Create Process Flow Diagrams (PFD)
Create Process & Instrumentation Diagrams (P&ID)
Focus only on engineering diagrams
A wide range of symbols to choose from, basic shapes, connection lines. compressors, drivers, dryers, filters, flow chart shapes, heat exchangers, mixers, pumps, valves, other symbols and instruments as well as vessels and tanks.
Customise the look of any symbol through the advanced property editor interface.
Add and remove connection points on any symbol for custom representation of inlet and outlet streams.
Save and export diagram in different formats, .jpeg, .gif, .png, .svg, .bmp, .tiff, .exif, .ico, .xml
Download
Click on the link below:
Download quick process and instrumentation diagram software
The demo version will operate with limitation and only allow access to Basic Shapes, Connection Lines, Flow Chart Shapes and Tables Symbols
Other symbols can be explored but not available for using, saving and exporting features have been disabled. The full version of this product does not have any restrictions. We don't offer a fully working demo version.
Please note: the demo version may not include any latest features added in recent revisions or versions. Please check our software version history page for detailed information and list of latest changes to the Full Version of this software
Video demonstration
To access the video tutorial on this website please click here 
To access the tutorial on YouTube Please follow the links below: 
1- Exploring the interface
2- Connecting shapes
3- Adding text
4- Changing line colour
5- Changing equipment colour
6- Shape size manipulation
7- Line bridging
8- Inserting a table
9- Line style
Screen Shot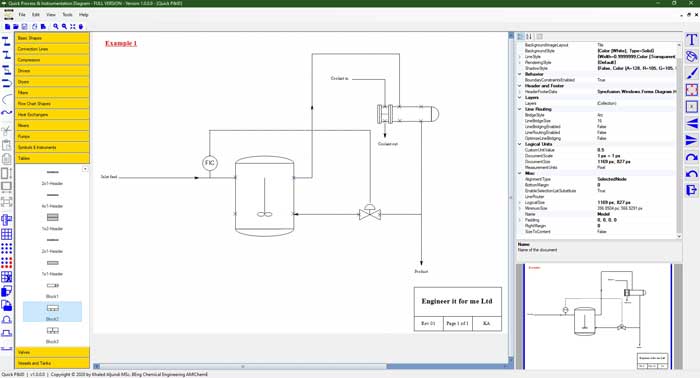 System Requirement
Process and instrumentation diagram Drawing Software needs the following system requirements to operate:
Microsoft Windows operating system.
Microsoft .Net Framework 4.6
Supported Windows Operating systems:
Windows 7, Windows 8, Windows 8.1, Windows 10