Kettle Reboiler Design software tool is made to demonstrate the thermal design calculations and analysis of Kettle type

reboilers.
The software is user friendly and can be used to make preliminary sizing calculations that will help to give a clear outlook of the initial design.
Main features:
Ability to use to different units of measurement, SI units and English (US) units
Unit Converter includes 23 measurements units with 200-unit conversion
Calculation of Duty, Area, Tube length.
Calculation of number of tubes
Calculation of Shell Diameter by iteration
Calculation of Weir height
Calculation of Nucleate pool boiling heat transfer coefficient using four different correlations, an option to enter the value is also available.
Calculation of tube side heat transfer coefficient using two different correlations, an option to enter the value is also available.
Calculation of Velocities on the tube and shell side
Calculation of Maximum allowable vapour velocity on the shell side
Calculation of the Maximum critical flux using three different correlations
Calculation of Shell side Heat Flux
Calculation of Number of Vapour nozzles
Calculation of Prandtl number on shell and tube sides and Reynolds number for the tube side
Calculation of Required/Clean/Fouled Overall Heat transfer coefficients
Calculation of over surface and over design.
Calculation of Tube side pressure drop
The ability to calculate unknown mass flow rate
Calculate the scale resistance (dirt factor)
Advisory design notice
Ability to import properties to Shell/Tube sides form Microsoft Excel
Compare unlimited different cases in one window
Save/Load results. Set default units of measurements.
Generate/Print Results summary and export it to Ms Word and paste it to whichever suitable
Water and steam properties
Included Databases:
Estimate the Physical properties of pure components for more than 1450 components; the database has the ability to estimate Thermal Conductivity, Density, Heat Capacity and Viscosity. The database also included critical properties, boiling and melting points and come as a standalone interface but easily integrated with the software.
Estimate mixture properties. (ALL ESTIMATION METHODS CURRENTLY SUPPORT LIQUIDS ONLY)
Ability to add your own properties in the additional user databases.
Fouling factors, Overall heat transfer coefficients and film heat transfer coefficients included.
A second database available at a discount during purchase of this software. Check out PhysPro Fluid Properties
Download
Click here to download the demo version of the product. Please also note that the demo version of this software will only operate with set examples which are restricted in our demo version.  The full version of this product does not have any restrictions.
We don't offer a fully working demo version.
To check the latest update history of this software please click here
To purchase this software please visit our "BUY Now" page
Screen Shots
To see screen shot for this software please visit the screen shots page for links
To see a video demonstration clip please click here
To see the video on YouTube click here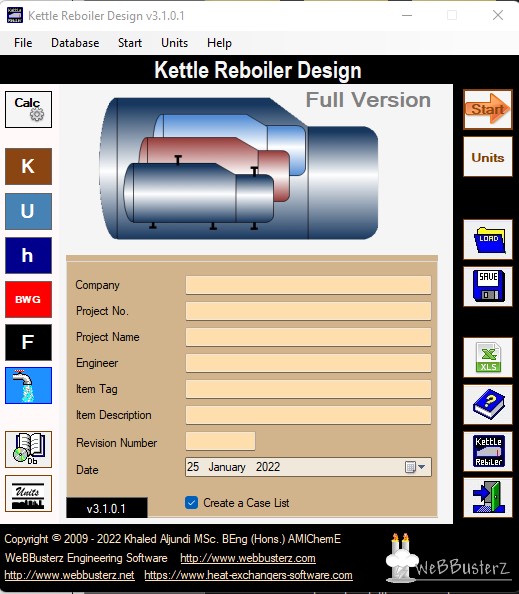 System Requirement
KRD needs the following computer configuration to run:
Target operating system: Windows 11
The software will also work on Windows 7, Windows 8.1, Windows 10, Windows 11
Microsoft.NET framework 4.8 client profile