Heat Exchanger Suite Bundle or (HExS) is a collection of heat exchanger software bundled up in one software under one license. This offeres the convenience of having all the heat exchanger design software in one installation. The software includes all the products below, so for features of each product click on the link to read more information.
physical properties software is also included but a a separate installation. Two physical properties software are included with the purchase of this heat exchanger suite bundle. User can generate physical properties then import the physical properties into each of the above software.
Physical properties estimation database (PhysProps) – read more about it here
PhysPro Fluid properties – read more about it here
Listed below are some tools within the software interface however each of the software listed above have more tools;
Units converted containg 23 measurements and 200 unit conversions
Water and steam properties
Fouling factors
Material thermal conductivity
Air properties at atmospheric pressure
PProps physical properties tool, contains 500 fluids
Backup and restore tool, to backup all saved settings and user databases along with any saved projects under default saving folder.
Screen shot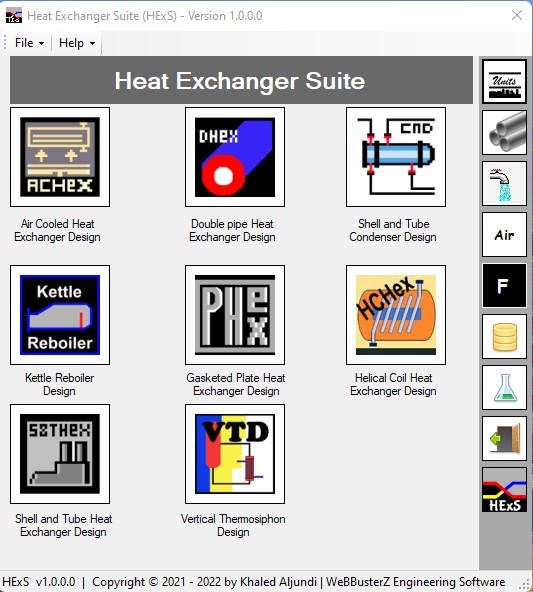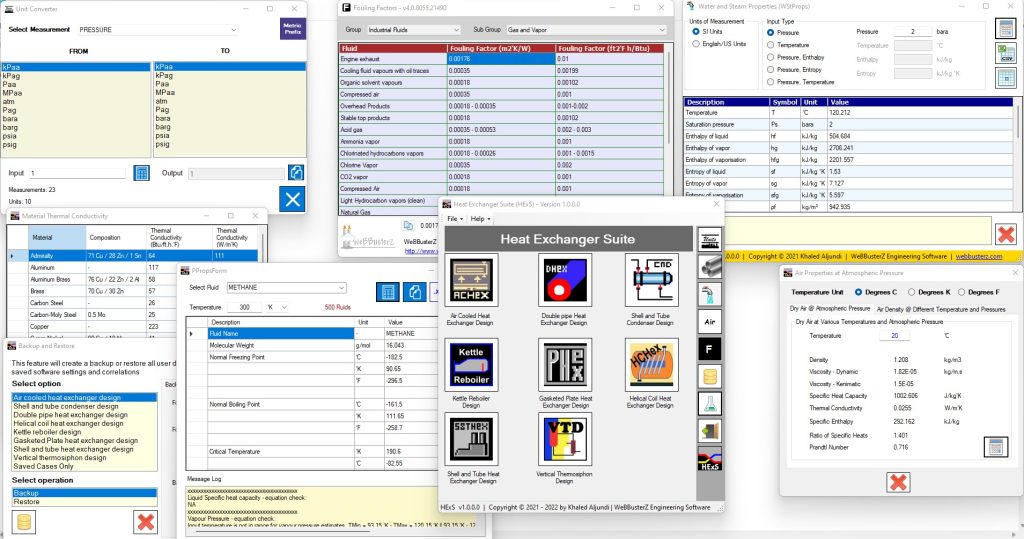 More screen shots are available, follow this link to our screen shot page
Video demonestration
For a video demonstration of this software please click here to see is on YouTube. Alternatively click here to see the video on this website
System requirements
Microsoft dot Net 4.8 framework
45 MB free disk space
64 MB Ram
The software should work on Windows 7, Windows 8, Windows 10 and Windows 11